MSNBC Leaning Backward - Why?
September 29, 2015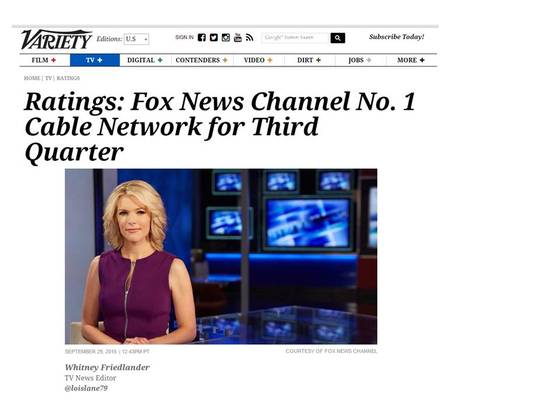 Today Variety reports the continued dominance of Fox News Channel in the cable network market. Not so long ago, most Americans got their information about the world from network television news (ABC, NBC, and CBS), radio, and newspapers. Journalists posed (though never fully achieved) as objective truth tellers. However, the introduction of cable news demonstrated the social science principle that humans are not seeking knowledge as much as they are seeking affirmation of themselves as people who know the truth. We now see television news outlets that strive most for objectivity struggle for viewership and we see the Fox Network, the most factually inaccurate, and the most biased news source dominate in viewership. This paradoxical behavior where the audience in quest for truth actually avoids it was explained well by Larry Womack in the Huffington Post 2012 article

, "The Problem with Media Today? – The Audience"

. He explains, "what the most profitable news sources too often provide: a steady stream of reinforcement without fear of making the audience ever genuinely feel like they might be wrong about some political opinion"

On Friday, September 11, 2015, Joy Reid, recent host of the MSNBC "The Reid Report" and regular contributor on MSNBC began the book tour for her new book,

Fracture, Barack Obama, the Clintons, and the Racial Divide

at Washington DCs, Politics and Prose bookstore. In the Q&A session that followed the reading, Reid was asked about the role of the media in helping viewers to understand complex issues such as the racial divide, the theme of her book. Reid summarized this same trend that people who once went to television to get information now go to the television network that best substantiates their own points of view.

Based on her remarks and the general understanding that viewers are seeking news outlets where they find validation, liberals in Reid's audience could ponder about the recent approach by MSNBC. As part of a plan to correct for sagging viewership, the network plans to provide more traditional news and less opinion-based programming. It may be that they can reverse their "lean forward" claims of 2010, and work to have vanilla news, low on opinion, high on formulaic delivery. But, who will they draw? With the clear dominance of Fox for the conservative audience, what fate will MSNBC face when they abandon the programming preferred by liberals?