Are Multivitamins Good or Bad?
April 29, 2016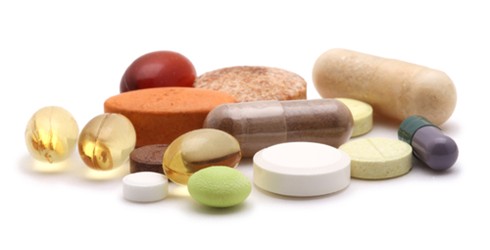 | | | |
| --- | --- | --- |
| | ​Among the most likely "users" of multivitamins are the wealthy, the better educated, those who have a healthy diet and weight control, and most especially - older Americans. As people age, they increasingly use multivitamins and other nutrient supplements. This trend began when Miles Labs promoted "one-a-day" vitamins in the 1940s, replacing the claim made by mothers claimed that "an apple a day keeps the doctor away". Now, it seems that many researchers are leaning more toward the apple than the multivitamin. The well accepted idea is that using vitamin compounds can provide a healthy safety net in case there are any gaps in the nutrients taken in through your diet. It is estimated that over 30% of Americans routinely take vitamin supplements. Approximately $5.7 billion dollars per year are spent on multivitamins. The price tag is estimated to be as high as $36.7 billion if all dietary supplements are included. So, we must ask, do multivitamins help us enough to justify this expense? | |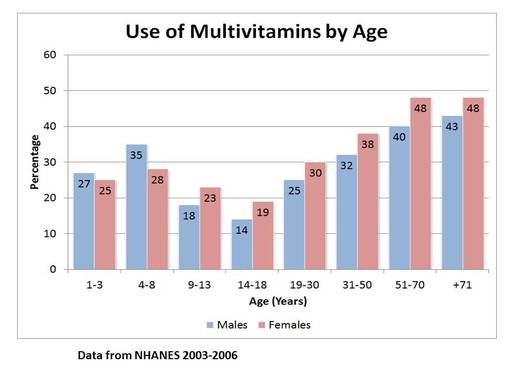 ​When do vitamins help or hurt?
Much of the research that has been done on the outcomes associated with multivitamins is considered flawed, and similar studies have often produced conflicting answers. The NIH convened a scientific conference that concluded, "the present evidence is insufficient to recommend either for or against the use of multivitamins for Americans". Similarly when the World Cancer Research Fund and the American Institute for Cancer Research conducted an extensive review of the research, they recommended that Americans not use multivitamins for cancer prevention because the effects were so unpredictable, including a risk of harm. Multivitamin use does not seem to help prevent chronic diseases such as cancer, cardiovascular disease, pulmonary diseases, neurological diseases. One of the best studies, conducted using a randomized, controlled design, found multivitamins for men over 50 had no cardiovascular benefit and no benefit in mortality rates from cancer.

Perhaps the best example of beneficial use of vitamins is the use of vitamins with folic acid by women who may become pregnant or who are pregnant. Folic acid deficiency has been linked to preeclampsia and spinal bifida in newborns. Similarly, iron supplements may be helpful to many pregnant women.

For some older individuals, supplementing diet with B12 or Vitamin D can be helpful. Post menopausal women may benefit from calcium supplements to reduce osteoporosis. While studies have shown that most young children obtain adequate nutrients from their diet, there is a small subset have low levels of iron or zinc which can be amplified with vitamin supplements.

A recent study of people over 70 years who had previous falls showed that over half had vitamin D deficiency. However, in the same study vitamin D replacement therapy which was effective in raising vitamin D levels, was not linked in decreases in leg weakness. In fact, people had an increased risk of falling after vitamin replacement.

Many multivitamins have some components in quantities above the upper limit recommended and pose risk of toxicity. This "overdosing" if individuals consume foods or beverages that are fortified with vitamins. Some studies have found that multivitamins with large amounts of betacarotene or vitamin A may pose an increased risk of lung cancer to those who smoke or have smoked in the past. Excess vitamin A intake during pregnancy has also been linked to birth defects in infants.
For the most part, the average person gets neither harm nor benefit from using vitamins or other dietary supplements. For most people, diet alone provides adequate vitamins. In fact, nutrients released from food are used more effectively than those from supplements. Even diets that are less than exemplary easily provide the vitamins and minerals needed. Nutritionists maintain that multivitamins and other dietary supplements must do just that – supplement. Vitamins cannot provide adequate nutrition in the absence of a good diet.

Who regulates vitamin quality?
While the FDA advises the public to take the formulation that is designed for your gender and age group, and to ask your doctors if multivitamins are the right thing for you, the FDA does little to ensure that multivitamins use in the US is not abused.

The FDA considers vitamins as dietary supplements, and they do not require manufacturer's to demonstrate safety as they do for drugs. The FDA role begins after the products are on the drugstore shelf. The FDA will take action against the manufacturer if there is evidence of harm, evidence of mislabeling, or false claims. The FDA also requires that manufacturers monitor serious adverse events and report them to the FDA. Though rare, there have been recalls of supplements because of false claims, contamination with bacteria, chemicals, or heavy metals. Given the ambiguous findings about vitamin use and the potential for harm associated with vitamin use, some other form of regulation seems warranted.



​




​