Bernie's Troubles with Black Voters:
Do You Feel Me?
| | | |
| --- | --- | --- |
| | Two weeks ago we pointed out that the Iowa caucuses were not an appropriate measure of voter preferences because they are not secret and may have subjected each voter to pressure from neighbors or employers. In addition, the Iowa caucuses are held among predominantly white voters. While the Iowa caucuses do allow some glimpses of the effectiveness of the campaigns, the flaws did not make them predictors of how candidates will do later in the campaign. The Nevada caucuses, however, are more representative of the diversity of voters in the US. | |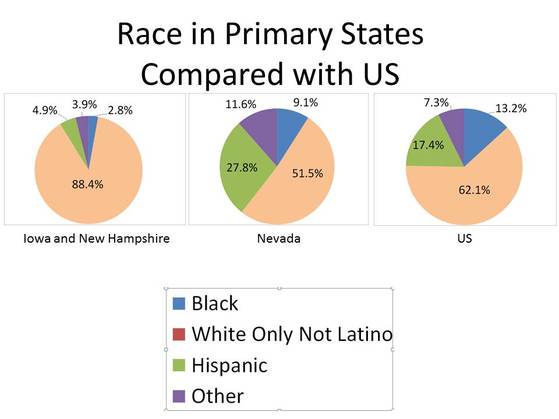 What a difference a day makes. At the start of the week, many spoke about Bernie Sanders as the Democratic candidate who had the "wind at his back", the one with the "Big Mo. The Nevada caucus, held on Saturday, February 20 dealt a blow to the Sanders campaign. In the first contest in which Sanders faced an electorate closer to that of the US than Iowa or New Hampshire, he failed to deliver. More importantly, he lost Blacks by 54 percent and, at best, tied Clinton for the Latino vote.

The polling for the next primary in South Carolina to be held on Saturday, February 27, has Clinton leading Sanders by as much as 55 percent among Black voters. Why don't Blacks feel the Bern? After all, his economic program will help Blacks as much as Whites, if not more. And, he has supported Black Lives Matter. The Sanders campaign steadfastly contends that the problem is that the Black community doesn't know him well yet, a condition that it is addressing. Sanders, however, is certainly known by the Congressional Black Caucus and has failed to garner broad support among its members. He has recently met with Civil Rights leaders, and has the support of some well-known Black intellectuals.

An alternative explanation is that Bernie and the Progressive Movement may rely too much on relationships as an instrument to attain their progressive goals. Blacks value relationships as an end in themselves and Bernie, until now, has not established the bonds needed to show that he values the relationship with Blacks. Bernie's march with Reverend Martin Luther King and his leadership in a protest against segregated University of Chicago housing don't show a continuous bond with the Black community.

If our hypothesis is correct, it will take Bernie longer than this election season for Blacks to "feel him".