Classroom Police Violence Targets Black Teen
November 6, 2015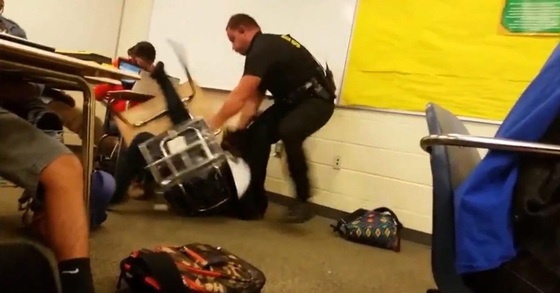 After returning from a conference of police chiefs, the Richland County, South Carolina police chief, Leon Lott, said that a sixteen year old black female would not have been slammed to the floor and thrown across the room if she had not been disrupting the class by looking at her cell phone. Presumably, when the chief was attending his conference, none of his law abiding fellow chiefs checked their cell phones, thus disrupting the conference.

In fact, this incident was not about a school disruption, it was about a student disrespecting school rules and her teacher's instructions, both rather common occurrences in high school. It is understandable that her teacher and the school administrator who was eventually called to the classroom, were upset by the student's disrespect. The question is why was the school's "resource officer" called to help educators manage the classroom, especially in a magnet school like Spring Valley? Why didn't the educators let the student look at her phone and then, after class, take disciplinary steps?


The genesis of calling for police to address "the problem" of a disrespectful student was a 1976 disturbing schools law. According to the law, "It shall be unlawful: 1) for any person willfully or unnecessarily (a) to interfere with or to disturb in any way or in any place the students or teachers of any school or college in this State…(c) to act in an obnoxious manner thereon…" One consequence of this law is that student who are disrespectful can be prosecuted as criminals.

This law was passed during the tumultuous period of school desegregation and court ordered busing to achieve desegregation in the country beginning in 1960 through the 1970s. Protests against desegregation were especially profound in States that had been a part of the confederacy, although protests in some northern cities like Boston were as deep as those in the South. While whites fled to suburban school districts in many Northern cities, the predominance of county wide school districts in the South made this a less viable, but still effective tactic. Instead, Southern tactics to avoid desegregation included the establishment of private, magnet, charter, and home schools.


Despite the failure of general desegregation in South Carolina (and much of the rest of the country), some areas of South Carolina, established magnet schools that led to school districts with varying percentages of white and black students. Within these magnet schools, however, segregation still exists; most white students are in the gleaming magnet programs and most black students are in the "traditional" programs. Besides white and black students being in different academic programs, they are subject to different disciplinary regimens. Federal data shows that black students are more than twice as likely to be arrested in schools as white students. In the school district where this incident occurred, 59 percent of students are black, while 77 percent of those suspended are black. The parents of black students in this school district have complained about arbitrary discipline that disproportionately affects black students.

Like so many incidents involving white police officers and black "offenders," a relatively minor infraction sparks an escalation of the initial incident and police violence results. While the black teen was clearly violating classroom etiquette by looking at her phone, most of the disruption occurred by attempts to discipline her. Given the history of this country and South Carolina in particular, it is not too far a stretch to assume that a white girl looking at her phone might have faced different tactics to restore any infringement of classroom decorum. Then, the question becomes was the black teen's obligation to comply with a double standard? When a black is faced with the choice of whether or not to comply with a police officer's order on a deserted stretch of road, compliance can mean life. There is no choice but to comply. However, for a student in her classroom, the choice should not be so stark. Being slammed to the floor and thrown across the room, is so wrong and incomprehensible a reaction, it should never be considered a consequence of noncompliance, regardless of whether a police officer is called to the classroom. By definition, none of the black girl's behavior should have been considered an instigation for what followed.

Calling for a policeman to help manage classroom was fraught with so many possibilities of something going wrong, the notion that decision was spurred by a student quietly checking her phone has to be questioned. Using police to punish disrespectful blacks has a long history in South Carolina. It goes back to 1800s and the use of slave patrols to prevent slave uprisings and keep slavery intact while keeping whites safe. The key to understanding this incident is to consider the history of white-black relations in South Carolina. Differential treatment of blacks and whites by authorities is to be expected; any observed rule infraction conceals a more important violation: disrespect of the system and those who own it; and a punishment commensurate with disrespect of that system must be meted out.