MSNBC Goes Fox: Morning Joe's Fair and Balanced Reporting on Hillary
September 22, 2015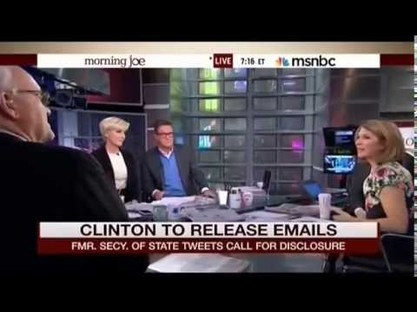 Morning Joe Savages Hillary Clinton Over Emails Excuse: 'How Stupid Do They Think We Are' March 5, 2015
In the beginning of this year IssuesConnect.com noted that MSNBC was changing from a liberal orientation to another type of main stream media station [

see MSNBC Spirals Down

]. MSNBC has achieved a notable milestone in their journey to the right with Morning Joe's daily attacks on Hillary Clinton's email usage.

After having accused Secretary Clinton of breaking State Department regulations by having a private server, Joe Scarborough dropped this daily scree because there were no regulations with the force of law against private email usage. In addition, the State Department announced there were no policies or guidance sanctioning private email usage. Joe did not apologize or explain what happened to this charge.
The State Department announced there were no policies or guidance sanctioning private email usage.
Morning Joe continued to claim Secretary Clinton was guilty of some unspecified wrong doing because she had deleted personal emails. He was forced to drop this allegation when the State Department acknowledged that State Department officials routinely determine which of their emails should be deleted, without review by anyone else.

Morning Joe persisted in alleging wrong doing by Secretary Clinton and calling her a liar because he conflated sending and receiving "classified" material by email. Joe failed to note the typical government process is to review and possibly reclassify the information before it is released under the Freedom of Information Act (FOIA). Some of the information Secretary Clinton sent or received was reclassified as "Secret" before being released, although it had not been designated as "classified" prior to being sent or received.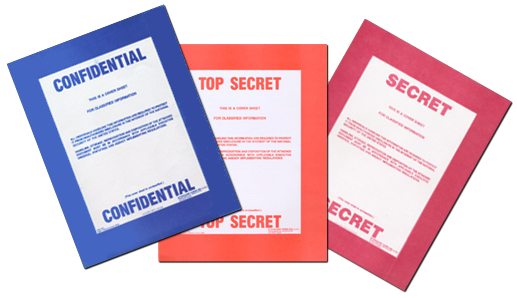 Now Morning Joe is left with one peg on which to hang the charge of mishandling "classified" material. The essence of this charge is Secretary Clinton sent or received "classified" material that had not yet been "classified," but would have been "classified" had State Department officials had an opportunity to review it. In effect, Joe imitated Fox News in claiming there is some "automatic" classification procedure when there is no such thing.

Fox says some of Secretary Clinton's emails were "considered classified" even if not marked as "classified" because a 2009 Executive Order signed by President Barak Obama, says foreign communications are "automatically" considered "classified." However, the 2009 Executive Order authorizes material to be classified, but does not require any material to be classified. The notion that Secretary Clinton may have been given or discussed information in meetings with foreign government officials, and thus, that information is "automatically classified" is blatant nonsense. Secretary Clinton is the "original classification authority" who is authorized to designate the content of those discussions as classified. If she did not classify those discussions as "classified," then they were not classified.


To add some gravitas to his rapidly evaporating accusations, Joe borrows Fox News flawed comparison of General David Petraeus to Secretary Clinton. General Petraeus pled guilty to the unauthorized removal and retention of classified material. The material involved in General Petraeus' case had been classified while none of Secretary Clinton's emails had been classified at the time they were sent or received.

Nonetheless, Joe faithfully follows the Fox News comparison as a way of accusing both the State Department and the Department of Justice of failing to sufficiently uncover Secretary Clinton's wrongdoing. He has ignored any opinions that contradicts Fox's predictable narrative that Secretary Clinton is guilty of something. Columnist David Ignatius, on the Morning Joe TV show, reported that after interviewing "half-dozen knowledgeable lawyers, I think this 'scandal' is overstated." Joe, however, turned to another guest and continued to harangue Secretary Clinton.

Before MSNBC's move to the right, some of Joe's more inflammatory and untrue statements would have been tempered. Now, Joe is following the Fox and spewing the same misleading propaganda. Secretary Clinton has not lied about her email usage, but Joe Scarborough is lying about her wrongdoing.