How Long Will Blacks Reject Progressives
August 11, 2015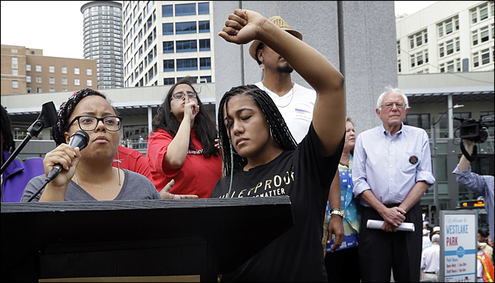 The question of whether progressives, who are mostly white, can connect to black voters is neither new nor restricted to Bernie Sanders, Elizabeth Warren, or other progressives in the current political context. From the beginning of his campaign Senator Sanders has polled between 2 and 11 percent among black voters and some observers have suggested that Senator Warren's low polling among black voters contributed to her decision not to enter Democratic primaries.

When then Senator Bill Bradley, a former professional basketball player, ran for the Democratic nomination in 2000, to the left of Al Gore, he was unable to garner widespread black support, although some professional basketball players did support him. Most observers believe that Bradley's inability to connect with black voters contributed to his failure to win the nomination, although that was certainly not the only factor.


There are three main reasons for the indifference black voters feel toward progressives like Senator Sanders. First, some observers argue that the progressive agenda is more universal and not directly linked to the interests of black voters. For example, a stalwart item of the progressive agenda is increasing economic and social equality, goals that would benefit both blacks and whites. Many of the social and economic issues that black voters have are more specific, such as justice system and prison reform, reducing the black unemployment rate, and increasing the wages for fast food and retail workers. Although many of the specific goals that blacks have could be subsumed by the more universal progressive goals, the universal goals may not engender same appeal to blacks.

Second, other observers believe that the lack of connection between progressives and black voters is an outgrowth of the tumult that occurred during the sixties. In an attempt to overcome an apparent backlash felt by white voters to racial changes of the sixties, progressives distanced themselves from issues that were considered too close to blacks. In distancing themselves from affirmative action, school busing, and reducing the prison incarceration gap between black and whites, progressives also severed their linkage to black voters. More recently, however, the white progressives have joined with blacks to resist stop and frisk in New York City and to seek accountability from police oppression in Ferguson, Baltimore, and other communities.

Third, a few observers claim that because blacks are conservative, except on racial matters, they eschew progressive issues. In 2008 black and Latino voters in California turned out in record numbers to pass Proposition 8, which stated that marriage is between a man and woman and over turning court ordered marriage equality.


Although many of the specific goals that blacks have could be subsumed by the more universal progressive goals, the universal goals may not engender same appeal to blacks.

Just as most white voters do not reflect progressive positions, most black voters are not progressives. Progressives are the tip of the spear and only represent a sliver of voters either black or white. The black ministry, black elected officials, and the social establishment of the black community are committed to the mainstream of the Democratic Party through long-standing working relationships and allegiances. Progressives seeking to attract the constituencies of these organizations must first appeal to the leadership of these traditional Democratic leaning organizations. Although Barack Obama was able to overcome the allegiance of black leadership to Hillary Clinton and the mainstream Democratic Party in 2008, it took the possibility of electing a black President to do it.

The progressive Black Lives Matter (BLM) Movement has engaged both black and white progressives to a degree not seen since the Civil Rights Movement of the sixties and seventies. If BLM can develop a sophisticated strategy, compelling tactics, and robust methods to prevent agent provocateurs from scuttling it, BLM has the potential of building a Civil Rights Movement for the 21st century. A 21st century movement will be able to capture enough black and white voters to overcome the long-standing allegiances to the traditional Democratic Party.