Republican Debaters - Obsessed with Obama
December 17, 2015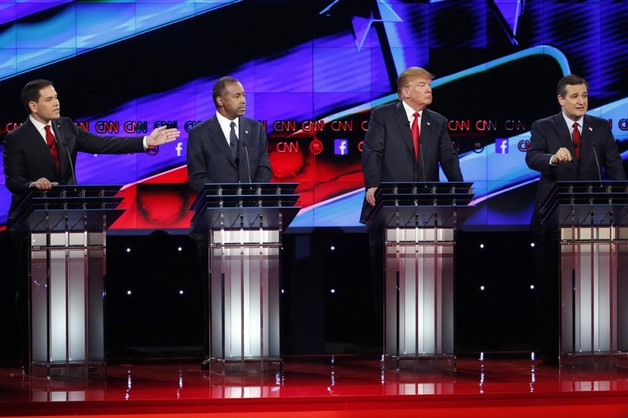 The contenders at the fifth Republican debate directed their most venomous attacks toward Pres. Obama, while only linking Secretary Clinton to Pres. Obama as an afterthought. Their vilification of Pres. Obama has even supplanted their usual praise for Ronald Reagan as a signal of the party's adherence to the party's white supremacist beliefs. In light of the fact that Pres. Obama cannot run for a third term and the contenders knew their likely opponent would be Secretary Clinton, one would expect the focus of the most intense attacks to be Secretary Clinton. Apparently, blaming Obama is now as much of a dog whistle for white supremacy as is "take our country back."

Besides the questionable focus on Pres. Obama, this debate was characterized by the intra-GOP tension between the establishment "neoconservatives" and the outsider "realists." The neoconservatives-- Governor John Kasich, Governor Chris Christie, Governor Jeb Bush, Senator Marco Rubio, and Ms. Carly Fiorina--one way or another either advocated or expressed support for increased U.S. direct intervention in the Middle East. The realists on the other hand (Senator Rand Paul, Mr. Donald Trump Senator Ted Cruz, and Dr. Ben Carson) acknowledged that the direct U.S. intervention in the Middle East had resulted and failures and unanticipated consequences that were negative for the U.S.


Despite the importance of this intra-GOP fissure for US national security, the standing of the contenders did not seem to change very much. Selected highlights include the following:

During his hiatus from federal government service Governor Kasich did not seem to realize how much the world has change. His neoconservative recommendation for addressing ISIL was to build a coalition like George H.W. Bush built to defeat the Army of Saddam Hussein. Governor Kasich did not seem to understand that ISIL is not a conventional army like that of Saddam Hussein, but rather a terrorist force.

Governor Christie tried to use his prior experience as a U.S. Attorney General for New Jersey to claim that this position gave him experience in fighting terrorists. Governor Christie referenced his prosecutorial experience so much, one had the impression that his first act in the war against ISIL would be to file a brief in federal court. At one point Senator Paul did call Governor Christie out on the Governor's promise to establish a no-fly zone in Syria and shoot down any Russian plane entering the zone. Senator Paul rightly noted that the result could be war with another nuclear power. Governor Christie remained adamant in his belief that President Putin would yield to him.

Once again Ms. Fiorina did not let facts stand in the way of a good fictional narrative. Ms. Fiorina claimed that President Obama had "retired" generals David Petraeus, Stanley McChrystal, Jack Keene, and Michael Flynn for telling him things he did not want to hear. Of course, this was not true. General Flynn, former head of the Defense Intelligence Agency, said the claim that President Obama ignored the Agency's analysis. President Obama appointed General Petraeus director of the Central Intelligence Agency, a position from which he resigned because of a romantic affair. General McChrystal resigned rather than face at the motion for giving an unauthorized interview. General Keene retired prior to President Obama's election.

Mr. Trump demonstrated how thin his national security knowledge is when he was asked which leg of the Triad he would modernize first. Mr. Trump obviously did not realize that the Triad is an air, land based, and submarine-based nuclear weapons delivery system. More importantly, Mr. Trump again reiterated his intent to kill the families of terrorists without providing any legal basis for this action. Mr. Trump is apparently doubling down on the Israeli practice of destroying the homes of the families of suspected terrorists.

Senator Cruz demonstrated once again that he is an excellent debater even when the facts are not on his side. Under attack by Senator Rubio for not supporting mass data capture by the intelligence community, Senator Cruise argued that he supported a better method of gaining information on potential terrorists. In addition, Senator Cruise claimed that if elected if elected, he would carpet bomb ISIL without destroying the cities in which the terrorists hunker down and hide.

Senator Rubio ran in the trouble from Senator Cruz when he had to admit that he had been a part of the bipartisan "Gang of Eight" Senators that had proposed an immigration bill that would have led to amnesty for undocumented immigrants. Amnesty is abhorred by the GOP base.

Dr. Ben Carson did nothing to refute the perception that he does know anything about foreign policy. Along with Sen. Cruise, Dr. Carson claimed that the US government cannot vet properly Syrian refugees, an allegation that experts have refuted.

Governor Bush, once again, referred to the policies of his brother George as the model for victory in the Middle East. He claimed that a U.S. could defeat ISIL once and for all.

Rand Sen. Rand Paul pointed out the militaristic adventures proposed by the neoconservatives would strain budgets that their proposed tax plans had already nearly broken. Further Sen. Paul noted that US adventurism in the Middle East had not resulted in a lot of successes.

In addition to these highlights, the contenders, in one way or another, bought into three GOP myths. First, the federal government, compared to private industry, is totally inept. Ms. Fiorina cited disastrous Affordable Care Act's initial website as an example of incompetence. Ms. Fiorina seemed to forget that the federal government had contracted with private industry to construct the website; private industry failed to deliver a working website. Second, the candidates continued to claim that the United States is "giving" Iran $150 billion. In fact, the United States is merely releasing Iran's money from where it was frozen for past United Nations' violations and would have been released at some point, without U.S. concurrence. Third, the GOP contenders refused to acknowledge that the U.S. is subject to any other terrorism besides Middle Eastern terrorism. Thus, the racist terrorists in the U.S., like Dylan Roof, are excluded from any consideration for policy redress.

This debate was the least entertaining so far, perhaps because of the seriousness of the topic, foreign policy. More likely, it was because of the total willingness of the contenders to pander to a slice of the GOP base and its donors. These contenders relinquished all semblance considered judgement in recklessly proposing anything they thought might get them to the general election. Someone needed to ask how they expected to win the general, and if they did, how they thought they could possibly govern.