RUSSIAN CRIME STATE
​The fourth leg is the emergence of the Russian crime state after the collapse of the Soviet Union. Encouraged by U.S. conservatives who believed that the privatization of the means of production was the basis of democracy, corrupt politicians like Boris Yeltsin and Vladimir Putin systematically looted the Soviet Union's infrastructure and sold it to their cronies who became billionaire oligarchs. These oligarchs, many of them former KGB officers and criminals, continue to loot Russia, often with the complicity of corrupt western businessmen. [Paul Manafort and Dimitry Rybolovblev are key players in the looting of Russia.]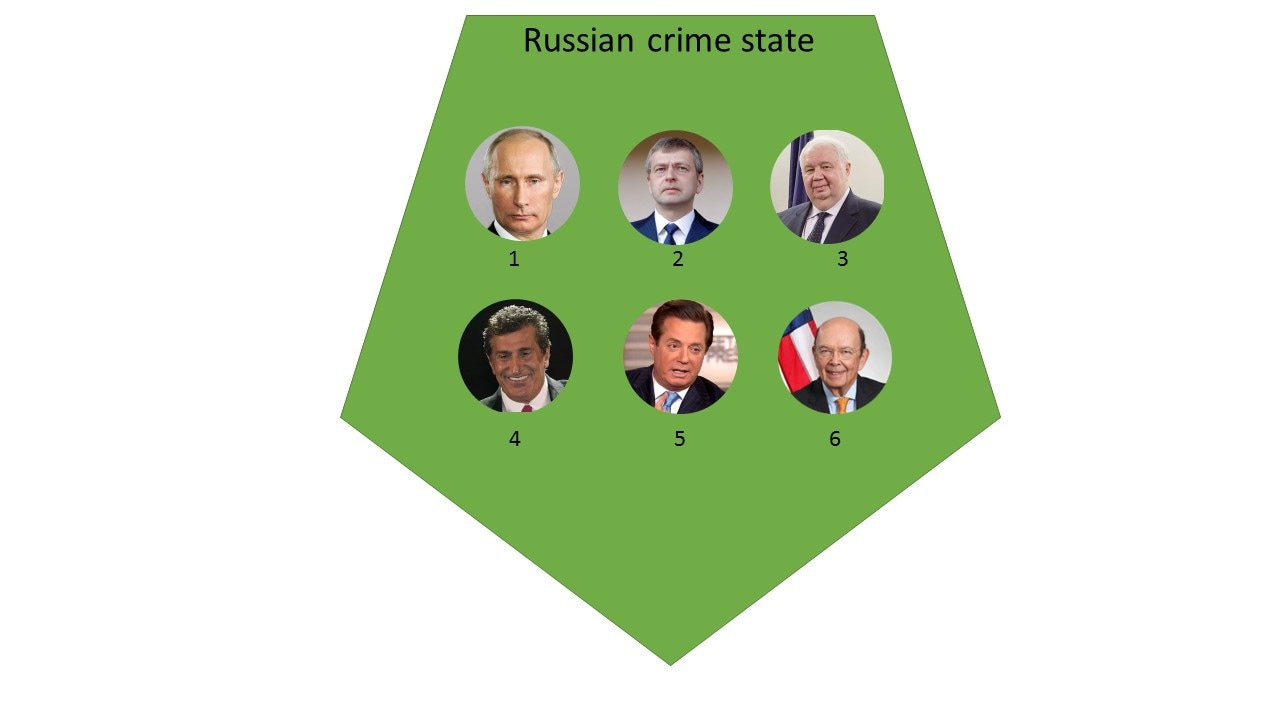 Players in the Russian Crime State
Vladimer Putin
Dmitry Rybolovlev
Sergey Kislyak
Tevfik Arif
Paul Manafort
Wilbur Ross
Vladimir Putin,
[1] former KGB colonel, is the President of Russia, and the head of the cabals of oligarchs and criminal bosses who run Russia. Putin is reported to reap some part of any business deal that occurs in Russia. Putin has reputedly murdered journalists and political opponents and accumulated billions of dollars, much of it in foreign banks and assets.
Dimitry Ryoblovlev,
[2] multi-billionaire Russian businessman and one of Putin's inner circle, is also been reported to be Putin's courier to Trump. This allegation rests on first, a real estate deal in which Trump sold a house to Ryoblovlev for about $50 million more than it was worth. Over paying for real estate is one way in which money can be laundered. Ryoblovlev owns about 10 percent of the Bank of Cyprus, a bank reported to be a major money laundering conduit. Second, Ryoblovlev, a resident of Monoco, has been seen in Las Vegas, Concord, North Carolina; and West Palm Beach. Neither Ryoblovlev nor anyone else could provide a reason, other than coincidence for the meetings.
Sergey Kislyak,
[3] the Russian ambassador to the U.S. is a career diplomat, but like all Russian diplomats works closely to Russian state security services.
Tevfik Arif,
[4] a Kazakh real estate developer and founder of the Bay Rock real estate group, was a former Soviet Union official. Arif worked with Trump on some real estate deals before moving to Turkey where he was arrested, but later acquitted for involvement with teen-age prostitutes.
Paul Manafort,
[5] is a political consultant and lobbyist and former Trump campaign manager. A former business partner of Roger Stone, Manafort also has links with oligarchs linked to Putin and was an advisor to former Ukrainian President Viktor Yanukovych, a Putin ally.
Wilbur Ross
[6].Commerce Secretary recently served as Vice President of the Bank of Cypress, recognized as a money-laundering center. In his role, Ross participated with Russian oligarchs. Under direction from the White House, he has refused to answer Senate questions about these ties to Russia.