Black Lives Matter: Proposals for Reducing
Excessive Force by Police against Blacks
October 20, 2015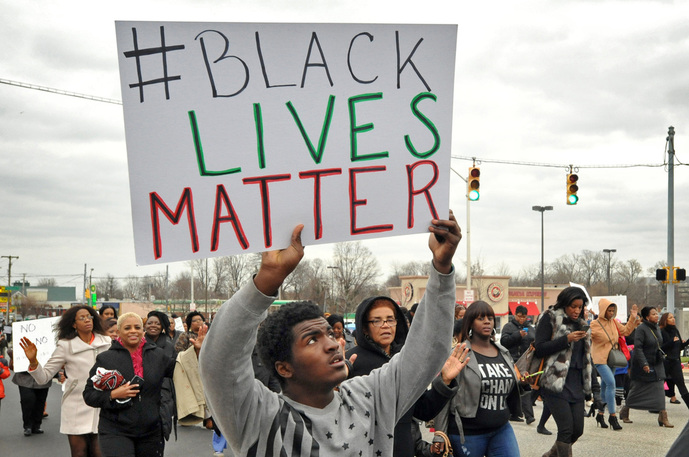 After almost three years of protesting the use of excessive force by police, Black Lives Matter (BLM) has announced ten proposals, called Campaign Zero, for reducing the wanton use of force by police. BLM is a protest movement started following the deaths of Trayvon Martin in Florida, Michael Brown in Ferguson, Missouri, and Eric Garner in New York City. Seventeen year old African-American Trayvon Martin was shot by a neighborhood watchman, who should not have had a gun and should not have been following Trayvon. After a nationwide outcry the watchman, George Zimmerman was indicted, tried, and acquitted. Michael Brown and Eric Garner, both African-American, were shot by policemen under circumstances suggesting excess police force. BLM was an outgrowth of the perceived injustice aroused by these deaths and the failure of law enforcement agencies to indict or try the policemen involved.


These proposals, comprising BLM's Campaign Zero, are well founded and consistent with the efforts of other groups seeking to end excessive police force.




Campaign Zero Proposals

1. End broken windows policing; profiling; and "stop-and-frisk" because as police focus on minor crimes with these programs, there are more contacts between police and minorities. With the presumption that people of color are guilty of something, the likelihood of excessive force will be used.

2. Establish community oversight for structures for hiring, firing, and evaluating the police chief; determining police policy; and receiving, investigating, and resolving complaints against police officers.

3. Limit the use of force by enacting standards and policies that authorize deadly force only when there is an imminent threat to life and by requiring reports of all use of deadly force.

4. Establish independent investigations and prosecutions by reducing the threshold standards of proof to require investigations by the Department of Justice and the appointment of special prosecutors for law enforcement officers.

5. Increase community representations so that police departments reflect the ethnic make-up of the communities they serve.

6. Require body and dashboard cameras and ban police officers from seizing civilian cell phones or other recording devices.

7. Invest in and require more rigorous initial, sustained and remedial training to reduce "unconscious" or "implicit" racial bias.

8. End for-profit policing by eliminating quotas for tickets, fines, and fees for low income people; and property seizure (civil forfeiture).

9. Demilitarize police because using military equipment can foster us/them attitudes and escalate volatile situations.

10. Require fair police contracts that do not establish legal protections for police officers different than the protections for civilians; officers' disciplinary history should be disclosed; and officers involved in excessive force incidents should be suspended without pay.


As solid as these proposals are, they are clearly a first cut and several of them need further clarification. For example, all-civilian boards, without any police membership seems extreme because policing clearly has special requirements and considerations that the presence of police and department expertise would be useful on oversight boards. Further, restricting membership on oversight boards to those who have no policing background, while calling for academic expertise may be contradictory requirements. Many of the leading academics with expertise in policing have been former policemen.

Another proposal calls for the use of body and dashboard cameras by policemen and prohibits police interference with civilians filming their on-duty activities. This proposal, however, also needs clarification. Policies need to be in place regarding when body cameras can be turned off. At least some of the time, the civilians with whom police interact may want the cameras off. Will officers be permitted to turn them off? When an incident does occur with the camera on, will the police officers involved be permitted to review the video before making their statements? When will the alleged perpetrator and the public be permitted to review the video? Many of these issues are now being written into labor police contracts, and thus, raise another question about the proposals.

The proposal calling for fair police contracts also requires additional work. Labor contracts are negotiations between police unions and municipalities in which the police department is located. Some police contracts also allow officers involved in deadly force incidents to forego making a statement for some period of time following the incident, a privilege civilians involve in police do not have. These privileges may be contained in state laws. Even assuming the municipality is agreeable, it is not clear the union will agree to the provisions Black Lives Matter wants. A key question then is how Black Lives Matter or the municipality may persuade the union to accept the proposal.

Another point of clarification pertains to the understandable desire of Black Lives Matter to forego seeing police officers involved in egregious deadly force incidents continue to wear their badges (if not their guns) and receive their paychecks. Some police shootings, such as those occurring during a barricade situation or bank robbery, may involve deadly force. It does not seem fair to the officers to suspend all of them without pay while there is an on-going investigation to determine, among other things, which officer or officers may have shot the perpetrators. The idea of punishment before investigation violates the principle of innocent until proven guilty.

With the exception of the proposal calling for Department of Justice and Special Prosecutors to conduct more investigations of police misconduct, all of the proposals in Campaign Zero address police behavior. Nonetheless, other issues about how the legal system functions, such as the role of prosecutors and need for grand juries, should be addressed. Judges and legal scholars have suggested several reforms. For example, judges could be required to be physically present when the grand jury sits to rule on issues of law, question witnesses, exclude inadmissible evidence, and provide instructions.

In addition, some legal scholars, such as LaDoris Cordell, have argued for eliminating grand juries because they serve mostly to politically protect prosecutors and are not needed. Half of the states in this country do not have grand juries now. Preliminary hearings, which come after the prosecutor files charges, determine the viability of those charges.

Several additional proposals should be considered to help foster a climate in which civilians are not exposed to unjustified police violence. First, although Campaign Zero references the rarity of deadly force incidents in England, Germany, Japan, and other developed countries, it does not call for any measures to be taken to limit the availability of guns as an ingredient in reducing unjustified police violence. The U.S. is alone among industrialized countries in the extent to which guns are readily available. Police behavior must, to some extent, reflect the availability of firearms. Further, consideration by BLM of the firearms issue could tap into the reservoir of pro-gun control feeling that now exists.

Second, many State laws and police department policies about what constitutes the reasonable use of force may leave too much discretion to the police officer in deciding when to exercise deadly force. In many jurisdictions, an officer who believes he is in fear for his life is permitted to use deadly force. As a consequence prosecutors and juries must give the benefit of doubt to the officers. Enacting laws and policies that more tightly specify what objective conditions for an officer to reasonably believe deadly force is required could hold police officers more accountable.

Third, policing is an inherently difficult task in a democratic society because it involves the use of force. Many aspects of policing are not known because they have never been studied. Indeed, the number of deadly force incidents that occur nationwide is not known. Additional research on policing, including evaluations of the changes that are being called for, is needed and would result in a sounder basis for changing the way policing in done. At a minimum there should be a national surveillance system requiring reporting of all events where police use lethal force.

While these are commonsense proposals and supported by research on policing, they will engender opposition from police departments and unions. Nonetheless, these proposals and the opposition to them will provide BLM with a tool for changing the culture of policing.