Russian interference with the us election
​The second leg of Trump's morass that is being investigated is Russian interference in the 2016 Presidential election. This leg involves the use of Russian intelligence services to hack the DNC computers and hire trolls to use social media to spread fake news.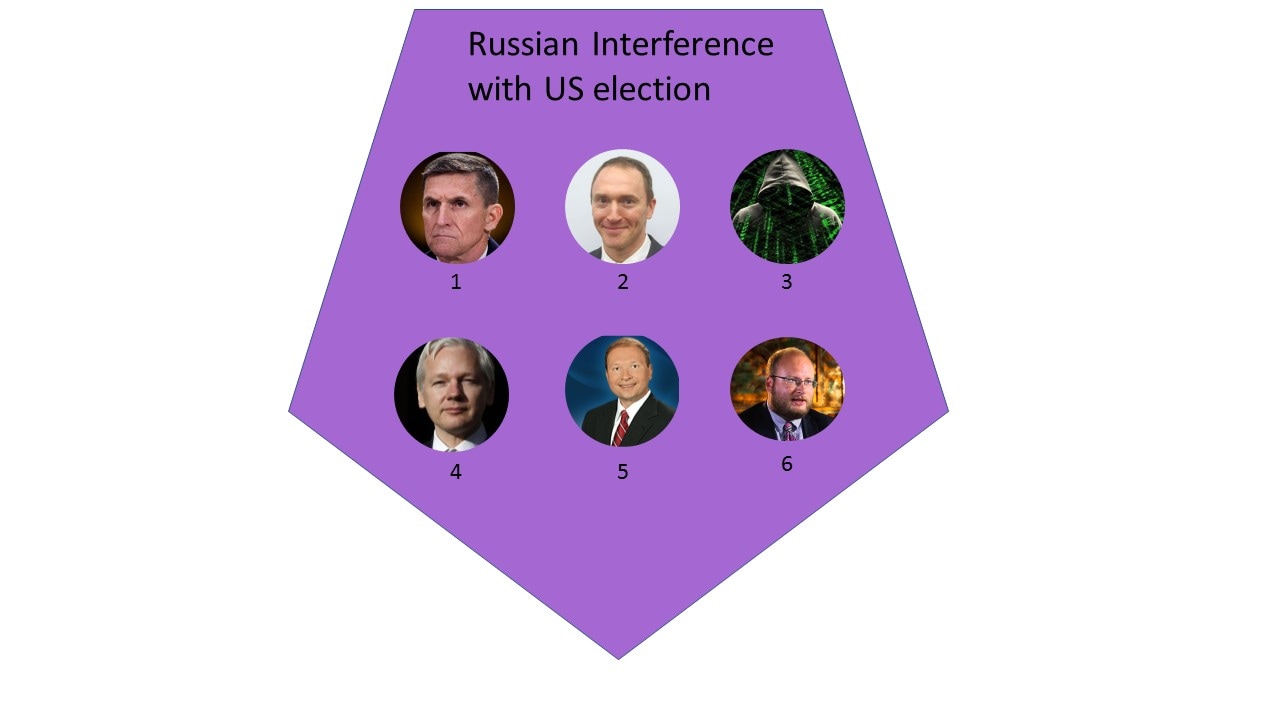 ---
Players involved in Russian interference with the 2016 election
Lt. Gen. Michael Flynn (Ret.)
Carter Page,
Guccifer 2.0,
Julian Assange,
J.D. Gordon,
Mikhail Kalugin
Michael Flynn
[1] resigned from his national security post within the White House after supposedly failing to notify Vice-President Pence of his contacts with Russian Ambassador Sergey Kislyak. After having been fired from the Defense Intelligence Agency, Flynn became a frequent commentator on the Russia Today television network and attended an RT network dinner in Moscow sharing the head table with Vladimer Putin and Jill Stein. Flynn was found to have acted, probably illegally, as an unregistered foreign agent for Turkey and plotted to kidnap, with agents of the Turkish government, a permanent resident of the U.S. Flynn has offered to be interviewed for immunity.
Carter Page
,[2] a former adviser to the Trump campaign, met with the Russian Ambassador, Sergey Kislyak, while with the campaign, but denied it until recently. The denial is significant because a former MI6 agent claimed the purpose of the meeting was to exchange lifting U.S. sanctions against Russia for a 19.5 percent stake in the Russian energy company Gazprom. While working as a consultant Page was successfully recruited by FSB agents in 2013 and expressed a willingness to do anything to make money.
Guccifer 2.0,
[3] is the persona of a Romanian hacker was used to hide Russian involvement in the hack of the Democratic Central Committee. This persona was dropped in favor of using WikiLeaks, however, because of difficulties western media was having accessing Guccifer's web site.
Julian Assange, [4] founder of the publishing organization WikiLeaks, claims to publish news leaks and secret information. However, in recent years Assange and WikiLeaks have only published U.S. information that is embarrassing or damaging to the U.S. In part, because of this tilt against the U.S. and Assange's prior stint as a host on the Russian propaganda outlet, RT television, most observers believe that Assange is an agent of Russian intelligence.
J.D. Gordon
,[5] former Trump campaign adviser, now disavowed as someone Trump "does not know," met with Kislyak during the Republican convention in Cleveland and was a part of the Trump foreign policy group responsible for preventing an anti-Russian/pro-Ukraine language from being added to the Republican platform.
​
Mikhail Kalugin,
[6] former head of the Economics section at the Russian Embassy, quickly left Washington, D.C. it was rumored because the FBI was closing in on him as a suspected paymaster in Russia's interference in the 2016 election. The BBC later confirmed, as cited in the dossier written by former MI6 agent, Christopher Steele, Kalugin was really an FSB agent operating in the U.S. under diplomatic cover.