Email, Hillary, and the Media
July 28, 2015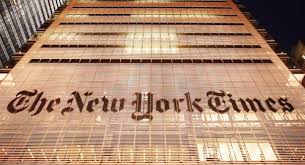 The transmittal of classified information via Hillary Clinton's email account is a complex issue that the media has helped to muddle, especially the New York Times. The New York Times reported on July 24 that the Department of Justice had been asked to open a criminal investigation into Hillary Clinton's use of a private email account that may have compromised classified information. A New York Times review suggested that this private account may have contained classified information. As other media glommed onto this report, they conflated it with previous issues raised in connection with Secretary Clinton's private email account. For example, some media raised a question of whether or not the use of a private server (that is, the hardware for connecting to the internet).

As the day wore on, the Times changed their story to reflect that the referral to the Justice Department was not a routine referral rather an administrative one related to possibility of compromised classified information. Further, the Secretary Clinton was not the focus of the referral and did not suggest any wrong doing by the Secretary. The Times' big story shriveled within hours into bureaucratic trivia.

One issue that was not covered in the subsequent coverage was how the Times managed to blow this up. This is not the first time that the Times has led with stories involving the Clintons that had more glitter than substance. Going all the way back to the halcyon days of Watergate special prosecutors the Times has been out front with stories based on leaks that didn't quite pan out.


This is not the first time that the Times has led with stories involving the Clintons that had more glitter than substance.
The Times should have considered and clarified two issues. First, no government employee should send classified information by email, government (i.e., @state.gov) or private (i.e., Gmail, Outlook, Yahoo, etc.). Government agencies use special protocols for handling classified information; the State Department uses an encrypted messaging system to transmit all classified information. Thus, while it is possible that Hillary Clinton violated State Department regulations and transmitted classified information via her personal email account, the fact that she did not have a State Department account does not inform that question. If Secretary Clinton had used a State Department email account to transmit classified information, the same sanctions as those for using a private email account would apply.

Second, the onus for the unauthorized transmittal of classified material in on the person who transmits it. It is the responsibility of the transmitter to ensure that the person receiving the information has the proper clearance to receive the information and that the transmission channel is secure. An obvious way to determine if the proper security protocols are in place is to ask. We all need to ask what is going on with the lack of clarity in media reporting this story, especially the New York Times.